Showcase: Our work
Python Software Foundation
The Python Package Index (PyPI) is the official software repository for the Python programming language. Python developers use PyPI to share and reuse Python code.
PyPI.org is visited by over 2.5 million people per month, and has users from over 200 countries.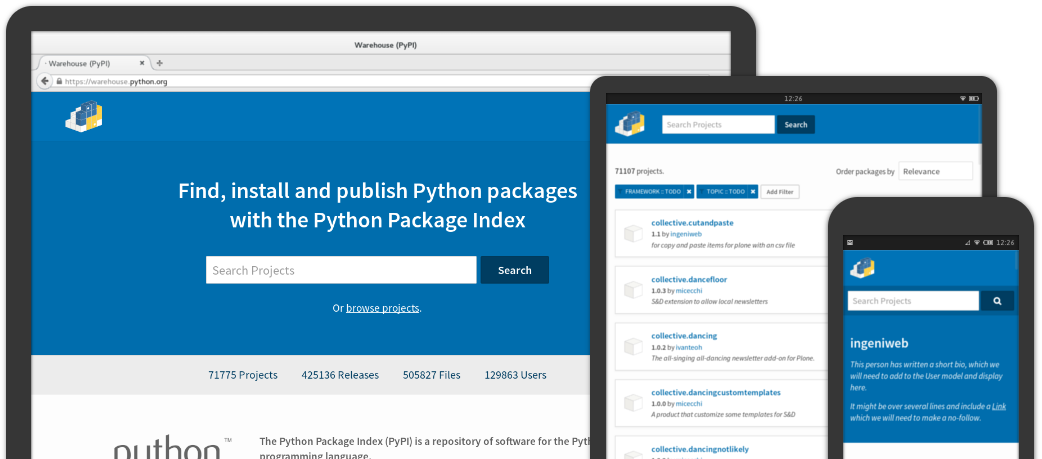 Kabu has been working with the PyPI team since 2015. During this time the team has released the new version of PyPI, and made significant security and usability improvements.
Our work includes:
Conducting user research and testing
Redesigning PyPI's user interface
Designing PyPI's new logo and visual identity
Leading the development of the HTML and CSS (SCSS) codebases
Assisting in the internationalisation of the codebase, to better cater for PyPI's global audience
Bringing the site up to WCAG 2.0 AA accessibility standards
Reviewing community pull requests and supporting community contributors
"Working with Nicole [from Kabu Creative] is a delight.

I've had the opportunity to collaborate with Nicole as a core developer on the Python Package Index.

Nicole's thoughtful and dedicated approach to design shows clearly in the outcomes of user-research, individual changes, and broader user experience.

As a core developer on the PyPI project, Nicole is patient and helpful while remaining decisive and friendly amidst contentious decisions."
Showcase: Our work
Department of Health, Victoria, Australia
BPCLEtool is a web application that helps health organisations improve the way that they deliver education for medical, nursing and allied health students.
Originally developed for the Victorian Department of Health, BPCLEtool is now used by hundreds of health organisations across Australia.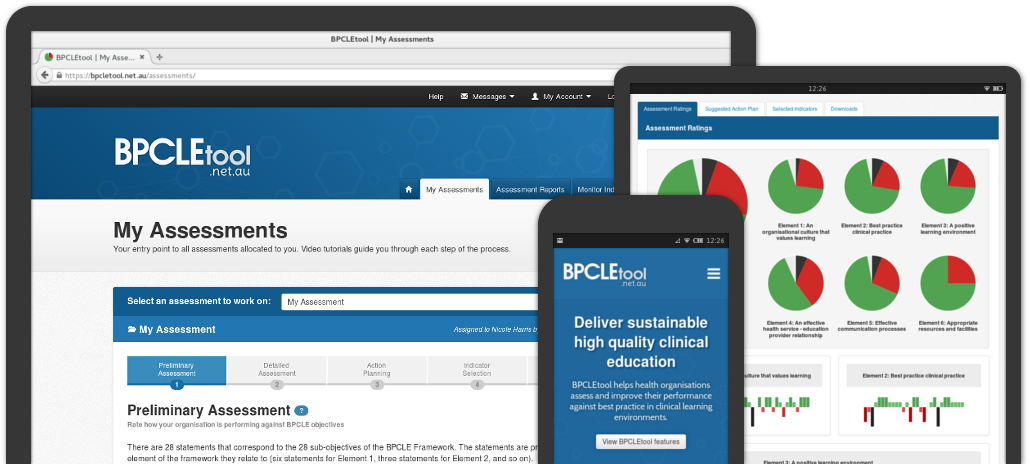 The BPCLEtool concept was developed by Darcy Associates to help Victorian health organisations assess themselves against the BPCLE (best practice clinical learning environments) framework.
We helped transform a Microsoft Excel prototype into a feature-rich modern web application.
Our role included:
Consulting with Darcy Associates to determine the optimal way to develop the required features
Managing remote members of the team responsible for different aspects of the project
User interface design and development
Back end web development in Django
Assisting in the roll out of the tool
"The team at Kabu Creative has shown great creativity in the development of the new online BPCLEtool.

We needed a practical mechanism to assist with the implementation of the BPCLE Framework and the BPCLEtool exceeds those requirements.

The Kabu Creative team was flexible in their approach - listening and responding to requirements and feedback.

Stakeholders have been very impressed with the tool's innovative functionality and user-friendly interface."
Our specialisations
Talk to us about...
Designing user interfaces that work for all of your users
Writing scalable and maintainable code
Accessibility and internationalisation
Our values
When you work with us, you should expect:
Personal, flexible and responsive service
Clear, transparent communication
Attention to detail
Get in touch: